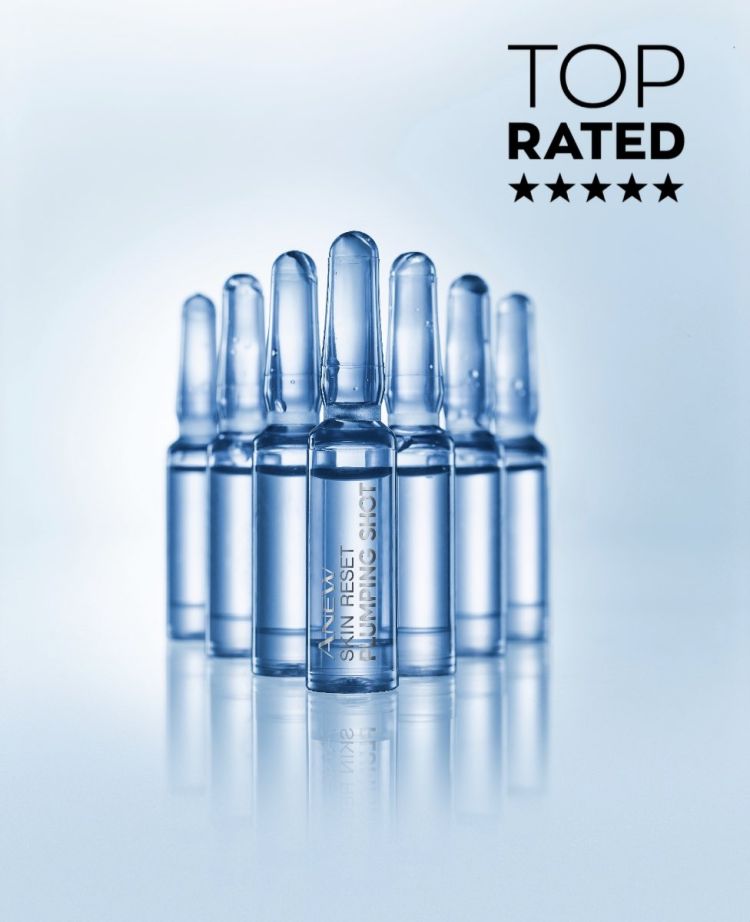 TOP Rated Product - ANEW SKIN RESET PLUMPING SHOTS
Restores 7 YEARS of collagen loss in just 7 DAYS
7 Daily use shots of transformational skin care that retrains your skin and restores 7 years of collagen loss in just 7 days
Powered by our award winning PROTINOL technology which gives you skin a collagen boost.
By increasing the ratio of BABY COLLAGEN (Collagen III) to ADULT COLLAGEN (Collagen I) restoring skin to more youthful levels for a strengthen skin matrix
Day 1: INSTANTLY see fresh, smooth, hydrated skin
Day 3: IN 3 DAYS skin looks plumper, rejuvenated and healthier
Day 7: IN 7 DAYS skin looks and feels significantly firmer, intensely plumper with fine line smoothed
Suitable for anyone who is wanting to restore collagen loss or wanting to boost tired/dull skin
7 shots for 7 days of the week. Each shot is highly concentrated and contains enough essence for use on the face, neck and decolletage.
Step 1:Flick the cap so product is collected in the body of the shot
Step 2:Snap off the capStep
Step 3:Apply evenly using your fingertips
Maintain great skin and use once a month as part of your skincare regime to keep collagen levels boosted and skin looking plump and firm
When your skin is looking tired or dull or when you need a revitalising boost, these shots are a must. Perfect for that special occasion or when skin needs some extra care
Each power shot contains AVON's exclusive, patented PROTINOL for a dual collagen boost which delivers dramatically smoother, plumper and firmer looking skin. Retrain your skin & reveal your best skin in years. Cheaper & pain-free compared to an appointment at a Skin Clinic